Monday, April 9, 2012 at 02:59AM
by Alexandra Savio
Even though I could watch TV and movies before I could read, I love books. I like to think I'm a reader. I owe it all to J.K. Rowling for getting me hooked on it (Good ol' J.K.!- Greatest Character Ever) in the 6th grade when I did a report on Harry Potter. When you commit to seven books, you commit to a life-style. 

As a lover of TV, film and books I have chosen to start this new column where I compare books to their film or TV counterpart. So welcome to The Book Lover's Film Affair.

Many readers think that films just ruin their beloved literary characters, and a lot of the times they're right. Books use details and storytelling devices in ways that film can't, not yet anyway. However, when done right it can be an honorable tribute.

Hey, speaking of tribute let's talk: The Hunger Games!

The Hunger Games is about sixteen year old Katniss Everdeen who must volunteer for her twelve year old sister when she is picked for The Hunger Games: a yearly fight to the death reality show between twenty-four "tributes" (One male and one female from each district between the ages of 12-18).

So I' am cringing in my chair right now at how hipster this sounds but I've been a fan of the series since it first came out. I waited for Catching Fire, waited for Mockingjay, (yes, I do like all three books) and I waited for a film studio to buy the rights.

I've been excited for this film for a very long time, and as a fan of the whole series here is my review:

What They Got Right:
Katniss Everdeen: 
Jennifer Lawrence was great. Katniss is a survivor who does what she must for her and her family to keep going. Jennifer Lawrence plays her perfectly as a tough, resourceful, warm-hearted woman: because even though Katniss is only 16-17 throughout the series, she was never a young girl. Our narrator was always all grown up. It's funny because Jennifer Lawrence is just so goofy in all her interviews. Just proves her acting skills.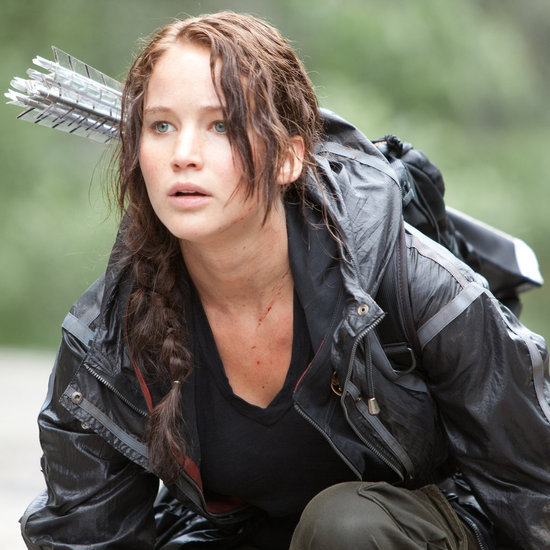 Rue: SHE WAS SO ADORABLE! Amandla Stenberg was so innocent, young and quick that you just believed her as Rue, the youngest tribute at age twelve. Rue is a memorable part of the series and the casting department did well with this one.
Thresh
: Dayo Okeniyi was only on screen for maybe six, seven minutes but Thresh was one of my favorites from the book and I liked him a lot. Thresh was supposed to be big, dark skinned, and honorable and Dayo did a great job.

The Adults- Cinna, Effie and Haymitch: Great actors, Lenny Kravitz as the stylish, wise and cool Cinna (I'm sure it was a stretch for him). Elizabeth Banks as the Capitol doll Effie Trinket was hilarious ("That is Mahogany!") and Woody Harrelson as a drunk, smart, funny man suffering from long term post-traumatic-stress-disorder? Yes please. Perfect representation of Katniss's beloved backbone prep team from the books.

The Careers: 
Their blood lust was scary and I wanted to see all of them get the crap beat out of them.

The Districts VS. The Capitol:
We saw only District 12 and District 11 but when you take a look at the rural, poverty, simple looks of both of them and compare it to the indulgent, colorful, over-the-top Capitol you can see which side would get the 'First World Problems' meme.
Script:
Overall I liked the scenes they choose to keep and what/who they chose to cut out. The lines were well used and the movie overall pretty much captured the book's pacing as well.
Debatable (I mean it, someone please convince me):
Petta Mellark: Josh Hutcherson is a great actor, he acted very well in this. However, Petta has desired Katniss since he was five. I just don't see that chemistry between them in this. Jennifer Lawrence just looks too much older and too tall for him. Maybe they're going for that? Maybe they want us to be oblivious to it as Katniss was in the books? I'm still kind of a fan of Hunter Parrish for the role. Plus, Josh with blonde hair just doesn't work.
What They Got Wrong [SPOILERS]:
Rush Through Katniss and Rue's Friendship: One way books are superior is they have more time to build up relationships, films don't always have that luxury. I know films can't be over three hours because you'll lose the audience (except if you're the magical creature which is James Cameron) but Rue's big scene in the film wasn't as heartbreaking as the book. Still well done and sad but I wasn't sobbing. It would have been more powerful if we saw more time between the two.
Katniss Not Admitting To Petta She Was Only Being Romantic For The Cameras:
I honestly can't believe that this wasn't acknowledged. It is so vital in the next two books. At the end of The Hunger Games Petta is heartbroken to learn that Katniss was playing their love story for the cameras, in which at the end she doesn't even know if she played off real feelings or not. It not only sets off their relationship for Catching Fire but starts off the Petta-Katniss-Gale love triangle in the series.

RATING: Great Film, Better Book.